BenQ Zowie XL2546 vs XL2546K – Which Monitor is Best for You?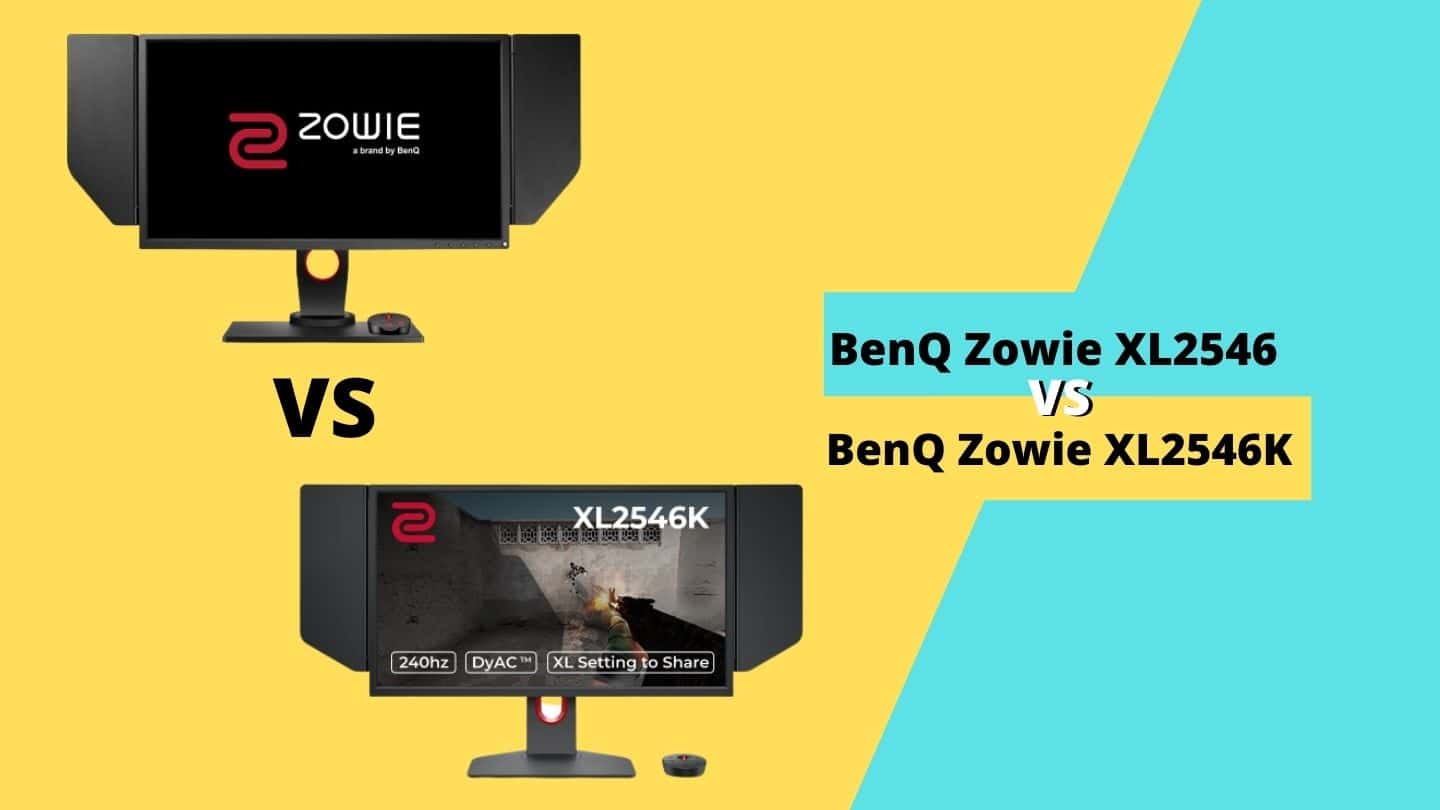 When choosing between the BenQ Zowie XL2546 vs XL2546K, we recommend that you review all the specifications and model details to always make the best decision. Do they meet the basic requirements of normal players?
IPS panel, screen size, pixel density, FTP, FPS and HDR are some of the important things to consider before deciding between BenQ Zowie XL2546 and XL2546K. So, let's find out what the main differences are:
BenQ Zowie XL2546 vs XL2546K – Comparison Table:
Features
BenQ Zowie XL2546

BenQ Zowie XL2546K

Size
24.5 inch
24.5 inch
Year of launch
2017
2020
Screen Type
TN
TN
Bit Depth
8 Bits (6 Bits + FRC)
8 Bits (6 Bits + FRC)
Colours
16777216
16777216
Aspect Ratio
16 : 9
16 : 9
FRC
Yes
Yes
Resolution
1920 x 1080
1920 x 1080
Quality
Full HD
Full HD
Pixel Density
89 ppi
89 ppi
Brightness
270 nits
320 nits
Backlight
W-LED
W-LED
Contrast
1000 : 1
800 : 1
Minimum Response Time
1 ms
0.5 ms
Coting
Anti-glare/Matte
Anti-glare/Matte
Power Consumption
40 W
40 W
Weight
6.5
7.5
VESA Mount
Yes
Yes
Forward Tilt
5 Degree
5 Degree
Backward Tilt
20 Degree
23 Degree
Ports
1 x USB 3.0 (upstream) 2 x HDMI 2.0 1 x DisplayPort 1.2 1 x DVI-D Dual Link 1 x 3.5 mm Microphone In 1 x 3.5 mm Audio Out
3 x HDMI 2.0 1 x DisplayPort 1.2 1 x 3.5 mm Audio Out
Lock
Kensington Anti-Theft Stand
Kensington Anti-Theft Stand
DyAc
Yes
Yes
Refresh Rate
240 Hz
240 Hz
FreeSync
No
Yes
Price
View on Amazon
View on Amazon US/Others
View on Amazon
View on Amazon US/Others
BenQ Zowie XL2546 vs XL2546K: What's the same?
Screen Size & Type
Both the BenQ XL2546 and XL2546K have TN panels that are lighter and thinner than normal LED and LCD devices on the market. They have a 24.5-inch clear picture quality screen so that users can see clearly while playing games and watching high-definition movies.
Resolution Quality
The 1920 x 1080 resolution is the ultimate gaming resolution for creating immersive gameplay on both monitors with a clear, conscious mind. This Full HD resolution also lets you hit triple-digit frame rates to give players an edge in royal fighting games out there.
Backlight & Refresh Rate
Even after long gaming sessions, the W-LED backlight of BenQ XL2546 and XL2546K saves energy while producing more light for better clarity. On top of that, both monitors have 240Hz of high refresh rate that keeps everything smooth and crispy in-game.
Power Consumption
The BenQ XL2546 and XL2546K consume the same amount of power which, after much testing, averaged 40W under normal conditions. At AC frequencies of 50 Hz to 60 Hz, both monitors work efficiently, and you get the maximum use of 55W usage while doing CPU intensive tasks.
Wall Mount
People who need a wall-mounted monitor stand are in luck as both monitors support VESA mounts to hang your monitor on the wall to save space. It also gives you more freedom of movement to adjust the monitor into a better position and release tension in the neck over time. Since monitors are large, you need more of a stand that looks good on the outside and holds the device on your desk securely.
BenQ Zowie XL2546 vs XL2546K: What's different?
Price
There's a huge price difference and the BenQ XL2546K cost more to an average user. There is also a shortage of XL2546 in the market while other options have multiple vendors that gamers can buy.
Brightness
The BenQ XL2546K reaches 320 nits of brightness while the XL2546 only has 270 nits of brightness, which makes the older version launched in 2017 inferior for gaming. Even with the same pixel density, you get more clarity and visibility in dark areas of your monitor due to increased brightness levels.
Backward Tilt & Weight
The BenQ XL2546 allows for a larger back tilt on the monitor stand, but you get the same forward tilt on both devices. In addition, the newer device is heavier than the old version, because with the XL2546K stand you get 7.5 kg, but the XL2546 only weighs 6.2 kg in total.
FreeSync
FreeSync technology wasn't available on the older XL2546 released in 2017, but you do get the FreeSync-optimized XL2546K because it's the newer 2020 model. FreeSync allows you to streamline your gameplay when suffering from reduced frames to lower the FPS accordingly. This does not cause the XL2546K to crack and stutter when playing heavy modern games on your monitor.
Ports
There are plenty of ports available on the older version of the XL2546 gaming monitor as you get two HDMI ports, USB 3.0, DVI-D, 3.5mm microphone and 3.5mm audio. The new version lets you only have 3 HDMI, DisplayPort 1.2, and 3.5mm audio connections on your monitor. Even with more connections, the XL2546 loses out to the XL2546K, as the new monitor has more HDMI connections.
Response Time & Contrast
You get a lot more contrast with the XL2546, even though it's an older version which in some ways displays textures, photos and videos slightly better than the K version. However, gamers should opt for the 2020 option, as it has a better response time of 0.5ms instead of the 1ms available on the XL2546.
BenQ Zowie XL2546

BenQ Zowie XL2546K

Pros
● Better Contrast
● Full HD resolution
● VESA mountable
● Low Price
Pros
● HDMI 3.0 support
● Supports FreeSync
● 0.5 Seconds of response time
● More flexible on stand
Cons
● No FreeSync Support
● Lower response time
● Less movement on stand
Cons
● Weigh more
● Higher Price
● No USB 3.0 support
View on Amazon
View on Amazon US/Others
View on Amazon
View on Amazon US/Others
BenQ Zowie XL2546 vs XL2546K – Which one is best?
Obviously, XL2546K wins in comparison of BenQ Zowie XL2546 vs XL2546K because it has better response time, built-in FreeSync, more brightness with many other advantages. After all, it was launched in 2020 with the latest updates. Also, the old version XL2546 is not easily available in the online market and it takes a lot of digging to find the monitor for your computer.
Conclusion
One should buy the BenQ XL2546K monitor as it's the latest version released in 2020 after many updates on XL2546 in 2017. The old monitor cannot beat the new device as it is faster, better and full of features that are not available in the 2017 version.
Few Related BenQ Monitor in India
Few Related BenQ Monitor in US/Others
Also, read