Sodastream Terra vs Fizzi – How to Choose?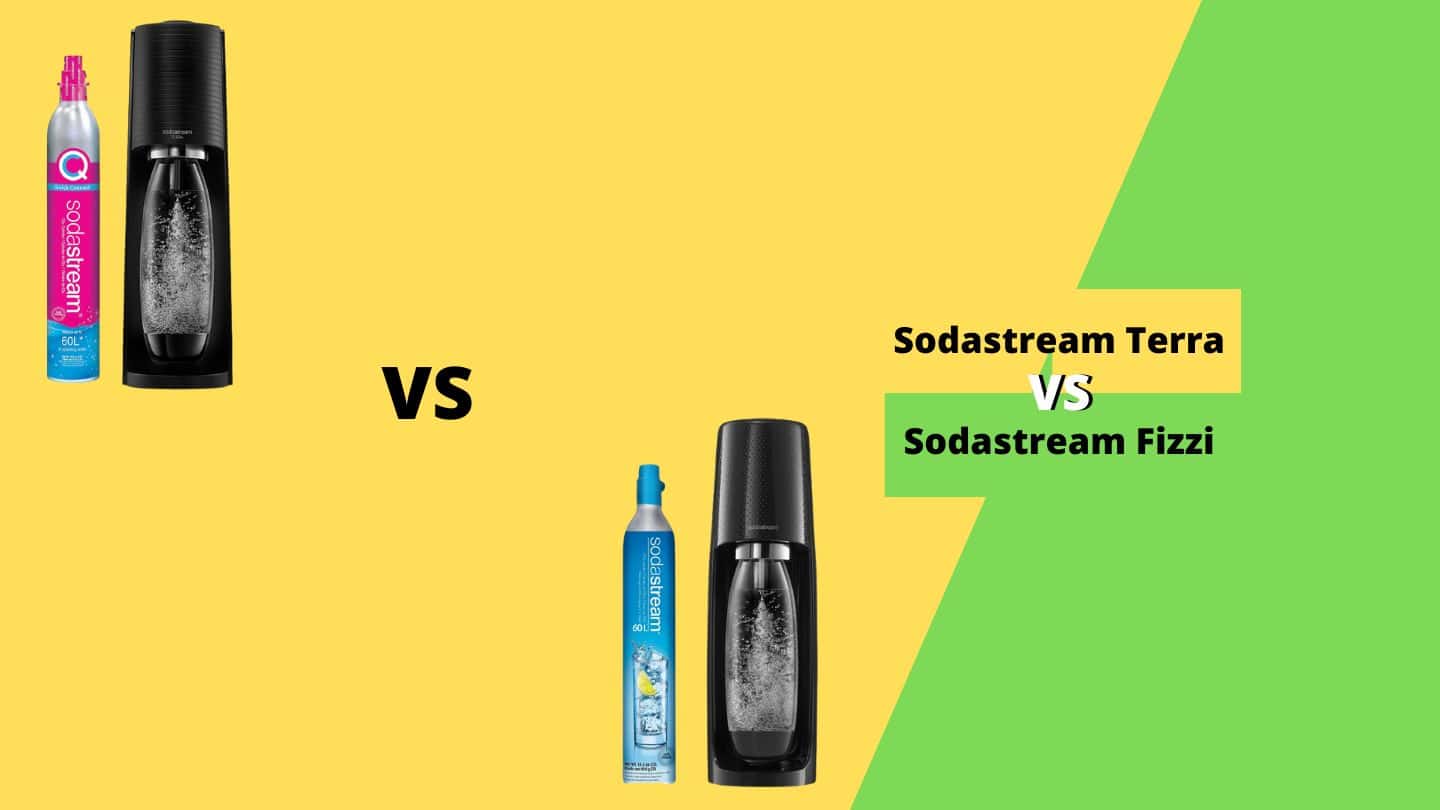 It's hard to choose between Sodastream Terra and Fizzi. Many people don't know where to start because they don't know much about technology and what to look out for.
That's why we did this flawless comparison between these two sparkling water makers, listing all the key specs to recommend you the best device. So, here's everything you need to know:
Sodastream Terra vs Fizzi – Comparison Table:
| | | |
| --- | --- | --- |
| Product | Sodastream Terra | Sodastream Fizzi |
| Type | Sparkling Water Maker | Sparkling Water Maker |
| Available Colors | Black, White, Red, Blue | Pink, Green, Black, White, Red, Blue, Rose Gold |
| Product Material | Plastic | Plastic |
| Carbonation Process | Manual | Manual |
| Connection Type | Quick Connect CO2 technology | Quick snap & lock/ Easy insert |
| CO2 Cylinder Compatibility | 60 L | 60 L |
| Bottle Connection Type | Pink Quick Connect CO2 cylinder | Classic screw system |
| Compatible Bottles | Slim 1L, O.5 L Fuse, 1 L Classic | Slim 1L, O.5 L Fuse, 1 L Classic |
| LED Fizz Indicator | No | No |
| Dishwasher Safe | Yes | No |
| Cordless | Yes | Yes |
| BPA Free | Yes | Yes |
| Reusable Bottles | Yes | Yes |
| Working Pressure | 116 psi/8 bar | 145 psi/10 bar |
| Operating Temperature | 104°F/40°C | 104°F/40°C |
| Electricity Required | No | No |
| Product Weight | 2.7 Kg | 3 Kg |
| Warranty Period | 2 Years | 2 Years |
| Product Dimensions (W x D x H) | 13 x 20 x 43 cm | 13 x 20 x 43 cm |
| What's Included | 60L Co2 cylinder, 1 liter carbonating bottle | 60L Co2 cylinder, 1 liter carbonating bottle |
| Price | View on Amazon | View on Amazon |
Sodastream Terra vs Fizzi – What's the same?
Type
Sodastream Terra & Fizzi are the top two sparkling water machines. With the push of a button, customers can turn regular tap water into soft drinks. They come with refillable CO2 gas cylinders that you can buy as spare to always have a fresh supply of soda water.
A variety of bottle sizes and flavors are also available to help customers prepare custom drinks in the comfort of their own homes for a few extra dollars.
Capacity
For water storage, you get the same 1 liter water bottle with Sodastream Terra & Fizzi. They also support all other bottle sizes from the brand so you can easily store any amount of water depending on the day.
Also, thanks to the quick-release locks integrated into both models, the bottle can be directly connected to your sparkling water maker in seconds. Plus, the sparkling water makers use 60 liter cylinders of compressed CO2 gas, which you get for free the first time around.
Accessories
Again, after comparing the parts you get with both Sodastream Terra & Fizzi soda water machines, we find that they are all the same. Firstly, each device comes with a one-liter water bottle which you can wash by hand.
They are BPA-free, transparent, durable, and safe for long-term storage of sparkling water. Moreover, customers will receive a free can of CO2 to help make sparkling water as soon as it is delivered to your doorstep.
Carbonation Process
Both Sodastream machines have a manual carbonation process. They have a press & hold button on the top of each device that you can use to add CO2 inside a regular bottle of water. You can also adjust the fizz level by long pressing the button to fizz more and vice versa.
Warranty
From the date of purchase, you will get a two-year warranty on both Sodastream Terra & Fizzi soda water makers. You must register online before claiming any warranty according to Sodastream's User Policy. After that, the replacement and repair of spare parts or the entire device in case of manufacturing defects is done free of charge.
Sodastream Terra vs Fizzi – What's so different?
Construction
Sodastream Terra comes in just four-color options, while the Fizzi comes in eight different options. The size of the two devices is also almost the same, while the weight of the Fizzi is slightly more in comparison.
There's also a slight change in pressure between the two models, but it's minor and doesn't cause any variation.
Dishwasher Safety
Only Sodastream Terra water bottles are dishwasher safe as they can withstand the heat and spray of detergent and water without damage. This makes cleaning your water bottles very easy and less time-consuming compared to other models by the same brand.
Connection Option
One thing that both Sodastream sparkling water makers have changed is the way they are connected. To connect to the CO2 cylinders, Fizzi uses a classic screw system that is mounted on the back and closed with a plastic cap for aesthetic reasons.
However, Sodastream Terra is more modern with quick connection technology for gas cylinders also.
Sodastream Terra vs Fizzi – Pros & Cons
Sodastream Terra

Sodastream Fizzi

Pros
● Long lasting cylinders
● Quick snap locking system
● Dishwasher safe carbonating bottle
● Made from BPA free material
● No electricity needed
Pros
● High mixing capacity
● Manual carbonation
● Two years of warranty
● Reusable bottles
● Cordless design
Cons
● Less color options
Cons
● Carbonating bottle is not dishwasher safe
● No quick connect for gas cylinders
 View on Amazon
 View on Amazon
Sodastream Terra vs Fizzi – Which one's the best?
Sodastream Terra sparkling water maker is our recommendation between the two devices. It features a slim and portable design that is easy to take with you wherever you go.
Terra also works without electricity, so you don't have to look for plugs to make soda water. The carbonating bottle is also dishwasher safe and made of BPA-free material for easy water storage.
General FAQs
Q. How many flavors are there?
Six flavors. But you need to buy it separately.
Q. Can I use tap water?
Yes, on both models.
Q. Is there a battery?
No batteries or electricity require.
Q. How long will gas cylinders last?
About 40-60 bottles per sixty liters of Co2.
Q. Can I refill the bottle?
No, Sodastream does it for you.
Final Verdict
Sodastream Terra is a new device that lets you make sparkling water anywhere, anytime. You can manually adjust the carbonation level and add flavors separately. It's also relatively quiet and comes with a two-year worldwide warranty.
On the other hand, the Sodastream Fizzi does not come with dishwasher-safe carbonating bottles and parts can be difficult to find if you run into problems, because it is a very old model.
Few Related Soda Makers
Also, read