Ninja FD401 vs OS301 – How to Choose the Best Electric Pressure Cooker?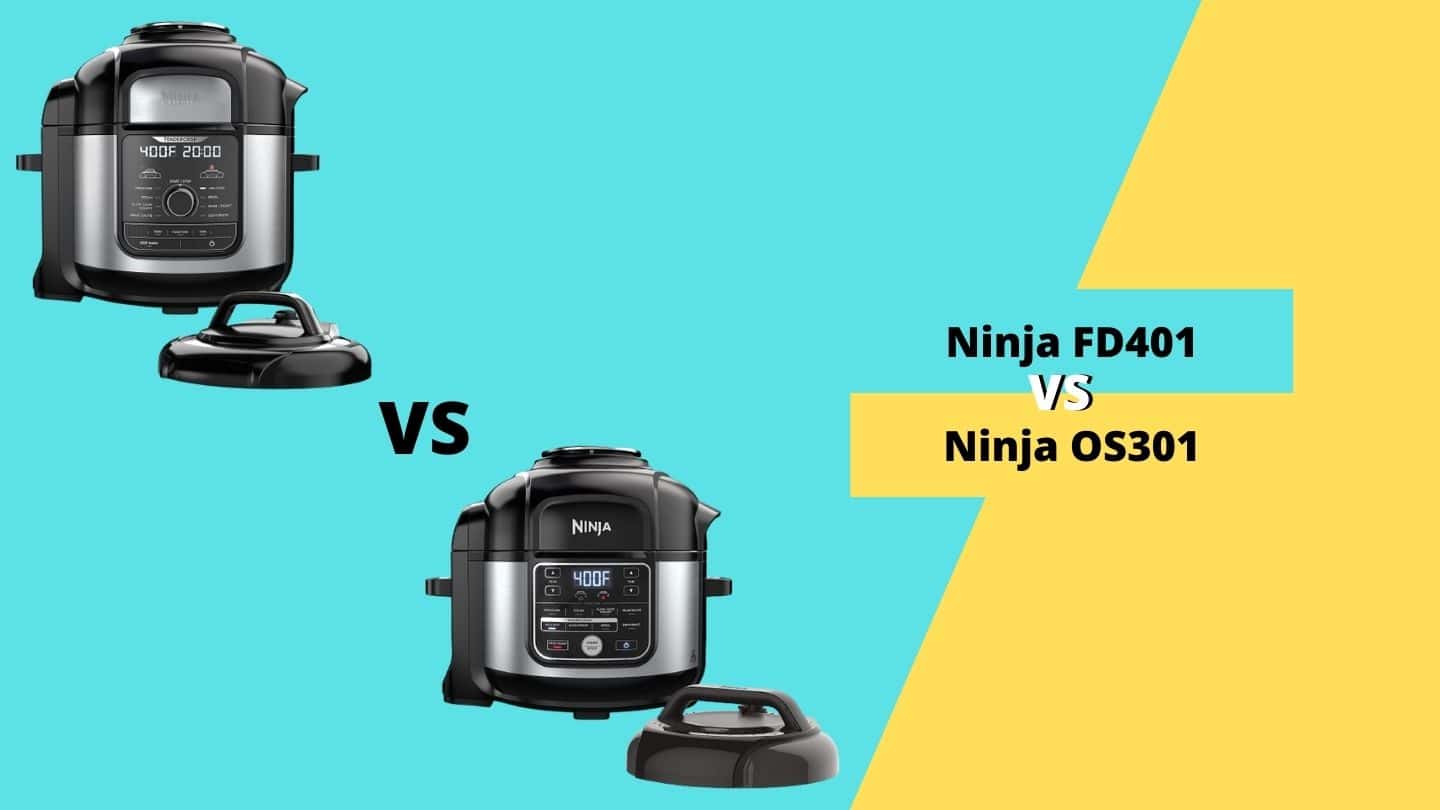 Pressure cookers are a daily necessity and electric devices are great for automating any task to help you cook food perfectly. Ninja has done a great job in the electric pressure cooker market with lots of tools to help you cook your food safely.
Ninja FD401 and OS301 are two competing products and many people get confused between the two. Here's a complete comparison between the two devices to help you choose the perfect automatic pressure cooker.
Ninja FD401 vs OS301 – Comparison Table:
| | | |
| --- | --- | --- |
| Product | Ninja FD401 | Ninja OS301 |
| Brand | Ninja | Ninja |
| Type | Electric Pressure Cooker | Electric Pressure Cooker |
| Color | Silver/Black | Silver/Black |
| Material | Stainless Steel & Plastic | Stainless Steel & Plastic |
| Technology | Tender Crisp | Tender Crisp |
| BPA Free | Yes | Yes |
| Capacity | 8 Quarts | 6.5 Quarts |
| Programs | 9 | 10 |
| Safety Features | 14 | 15 |
| Coating Type | Nonstick | Nonstick |
| Rack | Dual Reversible | Single |
| Power Consumption | 1760 W | 1460 W |
| Input Power | 120 V | 120 V |
| Controls | Buttons + Dial | Buttons |
| Operations Mode | Automatic | Automatic |
| Pressure Release Valve | Yes | Yes |
| Pressure Lid | Yes | Yes |
| Crisping Lid | Yes | Yes |
| Cord Length | 32 inches | 32 inches |
| Recipes | 45 | 45 |
| Removable Cook Pot | Yes | Yes |
| Removable Cooking Plate | Yes | Yes |
| Broil Rack | Yes | Yes |
| Dishwasher Safe | Yes | Yes |
| Weight | 26.4 lbs | 22.05 lbs |
| Warranty | 1 Year | 1 Year |
| Dimensions (L x W x H) | 16.1 x 14.57 x 14.29 inches | 13.35 x 13.19 x 13.15 inches |
| In Box | Pressure Cooker, Crisping Lid, Pressure Lid, Cooking Pot, Double Broil Rack, Cooking basket | Pressure Cooker, Attached Crisping Lid, Pressure Cooking Lid, Nonstick Cooking Pot, Nonstick Plate, Nesting Broil Rack |
| Price | View on Amazon | View on Amazon |
Ninja FD401 vs OS301 – What's the same?
Product Type
Derived from the same brand, the Ninja FD401 and OS301 are automatic electric pressure cookers that allow people to cook different dishes without using a lot of oil. The device starts at the touch of a button and you are given multiple settings to adjust all things in advance. This makes the cooking process much more convenient for any customer using a ninja product. 
Material
The outer surface of these two electric pressure cookers is made of a mixture of food-grade ABS plastic and stainless steel. Both devices are FDA approved for cooking and heating food due to the PTDE-free inner lining. They also have a pot with a non-stick coating to hold all the raw food for cooking, making the cleaning process a breeze.
Display & Warranty
Each device has a digital display showing the temperature and timer. You can manually change the timer to the desired range to cook everything with precision. There's also a one-year warranty on both devices, so you can get an easy replacement for any defective product on the market.
Power Cord
Both devices have a 32-inch cable length, giving you enough room to place a pressure cooker in your modern kitchen without the need for an extension board. Plus, the power cord is made of a highly conductive material to help you minimize power loss and lower your monthly bill.
Ninja FD401 vs OS301 – What's so different?
Design & Build
If we compare Ninja FD401 and OS301, the first device is much bigger than the second. Both pressure cookers look good from the outside and feel strong from the internal components.
Ninja OS301 is much more portable due to the smaller capacity which is mentioned in the next section. The overall weight of the Ninja FD401 is much heavier due to the larger frame that makes it take more space in your kitchen.
Capacity
You get a total capacity of 8 Quarts in the Ninja FD401, which is 7.6 in liters. The second device only has a capacity of 6.5 Quarts, which is a lot less in comparison. So, people with larger families should choose the first pressure cooker to cook food for everyone without lacking space to cook raw material.
Programs & Safety Features
The number of programs in the Ninja FD401 is 9, while other devices with additional programs in the control menu win. Apart from that, you get additional security features in Ninja OS301, making it even better for people who use cooking programs and aren't too confident in their skills.
Broil Rack
The Ninja FD401 has a two-story shelf that you can use in either direction because the design is similar on both sides. This is the main reason you get more capacity in the Ninja FD401 because the OS301 only comes with a single-sided stand that can hold less food for air frying or pressure cooking.
Power Consumption
Due to its larger size, the Ninja FD401 uses a powerful heating system to cover the extra space and consumes more energy by 1760 watts at full power. Ninja OS301 features a more economical heating system that uses only 1460 watts of power to help you save more electricity in your home.
Ninja FD401 vs OS301 – Pros & Cons
Ninja FD401

Ninja OS301

Pros
● Fat & Oil-free cooking
● Top-notch Nonstick coating
● Programmable timer
● Buttons & dial control panel
● Stainless steel build
Pros
● Portable & light frame
● 15 safety features
● Less power consumption
● More cooking programs
● Easy to use
Cons
● Uses more power
● Fewer programs & safety features
Cons
● Less capacity
● No dual rack
 
 
Ninja FD401 vs OS301 – Which one's the best?
The Ninja FD401 is the best pressure cooker between the two devices. It not only helps you cook more food but also makes the process easier with the automatic function. The pressure cooker is safe to use with food-grade plastic and BPA free stainless steel body material to help you cook food for a long time.
General FAQs
Q. Is there Teflon?
No, all ingredients are Teflon free.
Q. Is it difficult to clean?
The cleaning process is very easy because most of the pressure cooker components are disassembled to clean every corner.
Q. Can I steam rice?
Yes, you can steam the rice and cook the whole thing just like you would on a regular stovetop.
Q. Does it come with a cookbook?
Both devices come with instructions for use and a cookbook.
Q. How to stop cooking in the middle?
The pressure valve allows you to relieve pressure and open the pressure cooker.
Verdict
After comparing the Ninja FD401 with the OS301, we have a winner. People with large families should purchase the Ninja FD401 to not run out of space when cooking and preparing multiple dishes at the touch of a button. However, the Ninja OS301 is not a bad device, so anyone who lives alone or with a small family can choose this automatic pressure cooker and save a lot of electricity every month.
Few Related Ninja Pressure Cooker
Few Related Accessories
Also, read