Shark is a well-known brand of vacuum cleaners that offers a wide range of models for different preferences and needs. Two of the most popular Shark vacuum cleaners are the Shark NV356E and the Shark NV586.
Both of these Shark vacuum cleaner offers great suction power with various special features, high-quality filter, and more. But how do they compare to each other in terms of performance, design, and convenience? Let's find out!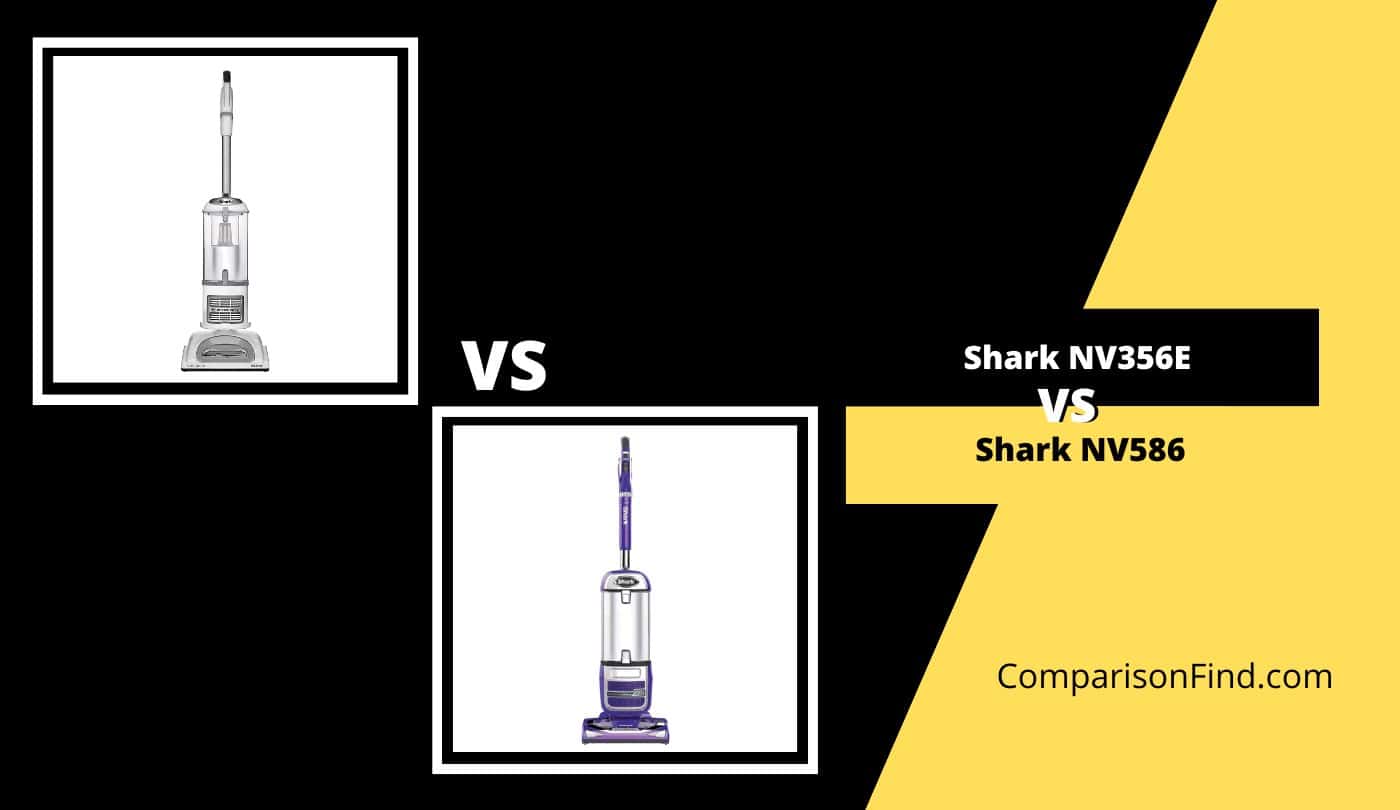 Shark NV356E vs NV586 – Comparison Table:
| | | |
| --- | --- | --- |
| Features | Shark NV356E | Shark NV586 |
| Color Options | White/Silver | Purple |
| Motor Power | 1200 Watts | 1140 Watts |
| Suction Control | Yes | Yes |
| Clean Surface | Hard Floor, Carpets, Upholstery, Tiles, and Rugs | Hard Floor, Carpets, Upholstery, Tiles, and Rugs |
| Tank Type | Bag | Bag |
| Dust Cup Size | 2.2 Quarts | 2.4 Quarts |
| LED Headlights | No | Yes |
| Voltage | 120 Volts ~ 60 Hz | 120 Volts ~ 60 Hz |
| Detachable Handheld | Yes | Yes |
| Dust Bag Indicator | No | No |
| Amperage | 10 amps | 9.5 amps |
| Blower | N/A | N/A |
| Filter | HEPA + Foam Filters | HEPA + Foam Filters |
| Washable Filter | Yes | Yes |
| Motorized Brush | Yes | Yes |
| Total No. of Accessories | 8 | 5 |
| Accessories | Crevice tool, Dusting Brush, Wide Upholstery Tool, Upholstery Tool, Anti-Allergen Dust Brush, Pet Power Brush, Under-Appliance Wand, and Large Accessory Bag | Dust-Away Pro & Microfiber Pad, Duster Crevice, Pet Multi-Tool, Pet Power Brush, and Under Appliance Wand  |
| Variable Speed Control | Yes | Yes |
| Weight | 13.7 Pounds | 18.66 Pounds |
| Warranty | 5 Years | 5 Year |
| Price | View on Amazon | View on Amazon |
Shark NV356E vs NV586 – Similarities
Suction Power
The suction power of the Shark NV356E and the Shark NV586 vacuum cleaner is almost similar. Even though Shark hasn't mentioned the suction power, it is likely to be similar since both vacuum cleaners have similar power output.
Noise Levels
As mentioned earlier, there are many differences and similarities between the Shark NV356E and Shark NV586 vacuum cleaners, and the noise levels are one of the similarities. Both vacuum cleaners produce around 70 to 90 dB of noise, which is quite impressive.
Filtration
The Shark NV356E and the Shark NV586 come with a HEPA filter along with some foam filters. The Hepa filter installed in these vacuum cleaners can trap even the smallest dust particles with ease. Since this HEPA filter has 0.3 microns in size, it also traps allergens with ease.
The best part of having a HEPA filter in the vacuum cleaner is that it is easy to clean and maintain. You can replace the filter in a year, and you can rinse it with tap water every month to maintain it properly.
Warranty
Both the Shark lift away vacuum cleaner comes with a long 5 years brand warranty. The brand covers the main unit, the motor, and other parts under the 5 years warranty.
Shark NV356E vs NV586 – Differences
Power Output
There is a small difference between the Shark NV356E and the Shark NV586 in terms of power output. The Shark NV356E produces a slightly higher power output, 1200 watts. In comparison, the Shark NV586 produces around 1140 watts. This is a minor difference that is not easy to notice in practical use.
Cleaning
Cleaning is easy with both of these vacuum cleaners. We feel no difference when cleaning bare floors, hard floors, rugs, and carpets with both vacuum cleaners. However, it is much easy to see underneath the objects with the Shark NV586 since it has an LED headlight, whereas the Shark NV356E doesn't have any headlights in it.
Dust Cup
There is a minor difference in terms of the dust cup capacity of these two vacuum cleaners. The Shark NV356E comes with a 2.2 quarts capacity dust cup. In contrast, the Shark NV586 comes with a 2.4 quarts capacity dust cup which makes it a little larger in size.
Accessories
When it comes to the accessories, the Shark NV356E is a better choice as it comes with a total of 8 accessories, so you don't have to depend on the aftermarket accessories.
On the flip side, the Shark NV586 vacuum cleaner comes with only 5 accessories, but it comes with all the basic and major accessories out of the box.
Weight
The Shark NV356E is a lightweight vacuum cleaner it weighs around 13.7 pounds. In comparison, the Shark NV586 vacuum cleaner weighs around 18.66 pounds which makes it difficult to move and transport.
Shark NV356E vs NV586 – Pros and cons
Shark NV356E
Shark NV586
Pros
● Powerful motor
● Less weight
● 8 different attachments
● Easy to clean filters
Pros
● Low power consumption
● Powerful headlight
● Suitable for different surfaces
● Large dust Cup size
Cons
● No LED Headlights
Cons
● Heavy weight
● Less attachments
 View on Amazon
 View on Amazon
Shark NV356E vs NV586 – Which One is better?
Shark NV356E is the better option when compared with NV586. Because the Shark NV356E comes with 1200 Watts of motor power. On the other hand, the NV586 Comes with 1140 Watts of power. The weight of Shark NV356E comes to 13.7 pounds so you can move easily from one place to another. It also comes with 8 different attachments that allows to clean different surfaces, whereas the NV586 comes with only 5 attachments.
Frequently Asked Questions:
Is It Difficult to Remove the Hair from the Brush Roll of Shark Vacuum Cleaners?
Yes, it is pretty easy to remove the hair from the brush roll of Shark vacuum cleaners.
Can You Turn Off the Brush Roll in Shark Vacuum Cleaner?
Yes, there is an option to turn off the brush roll in the Shark vacuum cleaner.
What is the Cleaning Path Width of Shark NV356E And NV586 Vacuum Cleaner?
Both the Shark vacuum cleaners have a cleaning path width of 12 inches.
Conclusion:
If you are looking for feature loaded vacuum cleaner at a best price than above, we have compared the most popular vacuum cleaner which are Shark NV356E and NV586. After comparing the both vacuum cleaners we found that the Shark NV356E is the clear winner. You should definitely go with NV356E.
Few Related Shark Vacuum Cleaners
Also, read