Breville JE98xl vs 800JEXL – Which One is Best for You?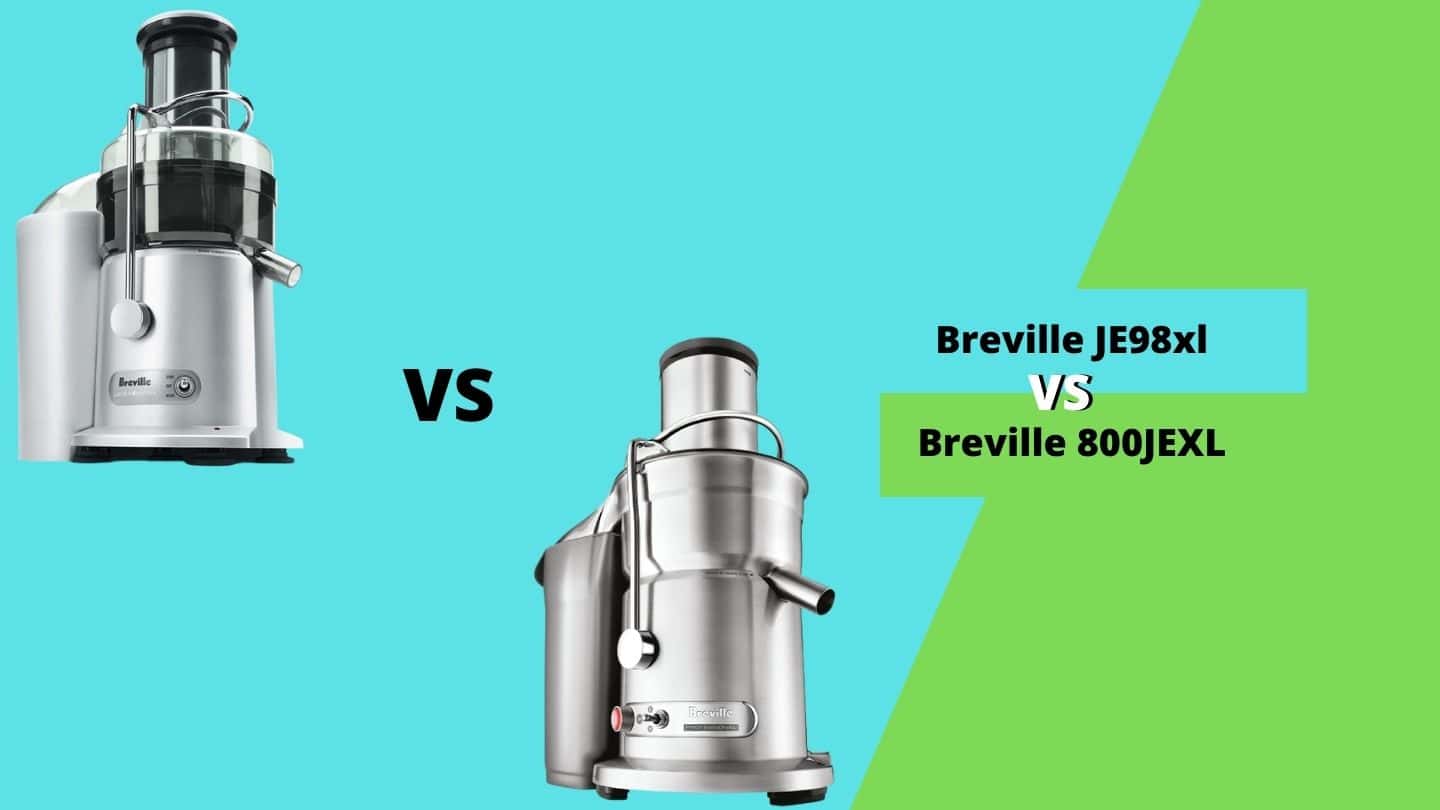 Breville makes many electric juicers and kitchen appliances on the market with excellent quality and affordable prices. Today we compare the Breville JE98xl vs 800JEXL to help you find the perfect juicer.
We rank them based on specs, features, speed, efficiency, and others. So, here's everything you need to know:
Breville JE98xl vs 800JEXL – Comparison Table:
| | | |
| --- | --- | --- |
| Product | Breville JE98xl | Breville 800JEXL |
| Type | Centrifugal juicer | Centrifugal juicer |
| Color | Silver | Silver |
| Material | Stainless Steel | Stainless Steel |
| Jug Capacity | 1 L | 1 L |
| Pulp Container | Yes | Yes |
| Pulp Container Capacity | 2.6 qt | 3.2 qt |
| Technology | Cold Spin | Cold Spin |
| Controls | Power Button + Switch | Power Button + Switch |
| Speed Settings | 2 (High & Low) | 2 (High & Low) |
| Input Voltage | 110-120 V | 110-120 V |
| Frequency | 50/60 Hz | 50/60 Hz |
| Power Usage | 850 Watts | 1000 Watts |
| Overload Protection | Yes | Yes |
| LED Indicator | Yes | Yes |
| Safety Lock | Yes | Yes |
| Food Pusher | Yes | Yes |
| Filter Basket | Yes | Yes |
| Froth Separator | Yes | Yes |
| Feed Chute | 3" | 3" |
| Dishwasher Safe | Yes | Yes |
| Product Warranty | 1 Year | 1 Year |
| Motor Warranty | 5 Years | 5 Years |
| Dimensions | 12.6″ x 14.1″ x 16.4″ | 12″ x 13.1″ x 10.6″ |
| Price | View on Amazon | View on Amazon |
Breville JE98xl vs 800JEXL – What's the same?
Type
Both electric juicers are centrifugal devices that use ultra-fast rotating metal blades to separate the juice from fruit, vegetables, and herbs. They store the pulp in different containers and the extracted juice in different jugs. Plus, they all work on the same cold spin technology to keep things fresh and healthy.
Controls
The two Breville juicers are easy to use even for beginners due to the limited panel settings. You get a simple front on/off switch with a speed control option. Also, there are only two speed settings, high and low, so even a beginner can grasp everything very quickly.
Capacity
Both juicers can work for small to medium-sized families as the jars have the same capacity to store the extracted juice. The one-liter capacity is more than enough to hold all kinds of juice without running out of space inside.
Overload Protection
To protect the Breville juicer from excessive current and heat, you get a smart feature called overload protection. It helps you maintain a strong motor life for years and the LED lights remind you to take a break from time to time.
Safety Lock
Both Breville devices are equipped with safety locks to protect your children or family members in the home from injury if they are accidentally switched on. So, the juicer won't work until you lock all the parts and close the lid properly.
Dishwasher Safety
To help you clean the juicer parts automatically, both are available with dishwasher support. The only part you can't wash is the base of the unit as it has all the electrical connections and motors which can get damaged from water.
Feed Chute
Both devices come with a 3-inch feed chute to save time by not having to cut fruit before juicing. The line is also connected to a food pusher, giving consumers more control over juice preparation as no fruit gets wasted in the process.
Warranty
They both come with a standard one-year warranty, which the customer can claim in case of a breakdown. There's also an additional five-year motor warranty to meet certain Breville quality standards for all of their juicers.
Breville JE98xl vs 800JEXL – What's so different?
Pulp Container
Yes, both juicers are equipped with pulp containers to automatically separate food waste from your drink. The difference lies in the size of the pulp container because the first unit has a capacity of 2.6 qt while the second has a total capacity of 3.2 qt. This makes the Breville 800JEXL ideal for storing more pulp and you have to clean it less often than the other model.
Power Usage
On average, the Breville JE98xl draws 850 watts of power, while the 800JEXL can reach 1,000 watts on high settings. So, if you really want to save money on your monthly electricity bill for years, you can opt for the first model and still get the best juice to drink while saving money on the side.
Construction
Like every other Breville juicer, these devices are made from a stainless steel body to give you a high-quality machine that will last over the years. In general, the overall design has many differences that can easily influence your decision. The first device has many glass parts with a bigger and heavier frame which is not true for the other model.
Breville JE98xl vs 800JEXL – Pros & Cons
Breville JE98xl

Breville 800JEXL

Pros
● Easy to use & clean
● No prepping time required
● 1 + 5 Years of device and motor warranty
● Titanium enforced cutting disk
● Micro-mesh fiber basket
Pros
● Stainless steel built
● Overload protection
● Safety locking arm
● Dishwasher safe to wash
● Wide feed chute
Cons
● Less pulp container capacity
Cons
● Uses more electricity
 View on Amazon
 View on Amazon
Breville JE98xl vs 800JEXL – Which one's the best?
Clearly, the Breville 800JEXL is the best juicer between the two. You get so many features like a filter basket, foam separator, overload protection LED, safety lock, and more in one machine. The added bonus of capacity and quality make it an even more attractive deal for anyone looking to buy a juicer for a modern kitchen.
General FAQs
Q. Can I make vegetable juice?
Yes, when set to low speed.
Q. Does the juicer grind the roots/seeds?
Yes, so get rid of the roots/seeds before you start.
Q. Do I need to apply for a warranty?
No, there is a warranty card in every package.
Q. Can they work in a small café?
No, they are best suited for home kitchens.
Q. Can you disassemble the parts?
Yes, most parts are easy to separate so you can clean them.
Verdict
People who want the best juicer between the two modes can opt for the Breville 800JEXL, which offers higher capacity and better build quality. However, if you're looking to save some money at the expense of some features, the Breville JE98xl isn't a bad device either.
Few Related Juicers
Also, read