Singer 7258 vs Brother CS7000X – Which Machine is Best?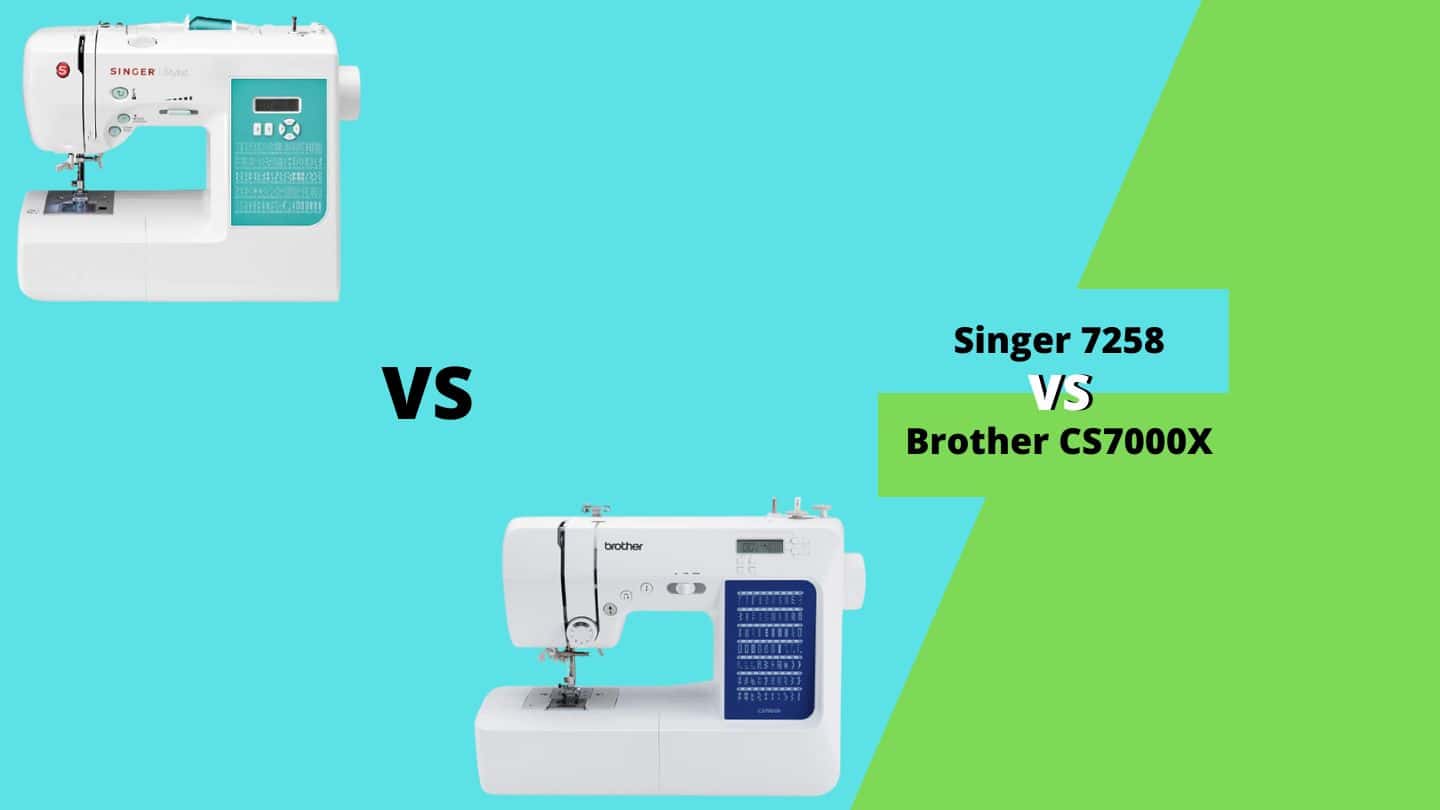 Singer & Brother are well-known brands famed for making some of the best sewing machines in the world. Their products come with the latest technology and features every year, but with so many choices, it becomes very difficult to choose one.
Let's go over why you should choose the Brother CS7000X over the Singer 7258. Here are the results:
Singer 7258 vs Brother CS7000X – Comparison Table:
Features
Singer 7258

Brother CS7000X

Type
Electric Sewing Machine
Electric Sewing Machine
Display
LCD Screen
LCD Screen
Frame
Metal
Metal
Max-Speed
750 SPM
750 SPM
Speed Control
Yes
Yes
Accessory Storage
Yes
Yes
Stitch Types
Straight Stitch, Buttonhole, Decorative, Zigzag
Straight Stitch, Buttonhole, Decorative, Zigzag
Needle Threading System
Automatic
Automatic
Number of Stitches
100
70
Twin-Needle Function
Yes
Yes
Bobbin Class
15J
15J
Bobbin Loading
Drop-in Top
Drop-in Top
ButtonHole Type
One-Step
One-Step
ButtonHole Styles
6
7
Foot Pedal
Yes
Yes
Reverse Stitch
Yes
Yes
Free Arm
Yes
Yes
Inbuilt Light
LED
LED
Extension Table
No
Included
Stitch Length & Width Control
Manual
Manual
Stitch Length
4.8 mm
5 mm
Stitch Width
6 mm
7 mm
Drop Feed
Not Specified
Automatic
Operating Voltage
110-120 V
110-120 V
Frequency
60 Hz
60 Hz
Total Accessories
16
21
Dimensions
14.5″ x 7.5″ x 12″
12.2″ x 6.65″ x 16.26″
Weight
14.8 ls
10.5 lbs
Warranty
25 Years
25 Years
Price
View on Amazon
sewingmachinesplus.com
View on Amazon
Singer 7258 vs Brother CS7000X – What's the same?
Type
The Singer 7258 & Brother CS7000X are two portable electric sewing machines from popular brands with many functions and automatic options to help you sew your clothes.
They are fairly easy to use and manage over the years. Also, you get a maximum speed of 750 stitches per minute to sew intricate designs onto garments with precise control and fast movement.
Threading System
Both sewing machines have an automatic needle threading function. Now all you have to do is place a new thread into the kit and it will go through the eye of your sewing needle with a push of a button.
This will help you save a lot of time, especially when doing large jobs that require multiple colors of sewing thread to be put together in one fabric.
Display & Controls
Another similarity between the two sewing machines is the LCD screen, which helps you sew by giving you a choice of multiple styles to custom lengths and widths.
The controls are also simple and anyone with a few days of training can make use of the sewing machine with ease.
Twin-Needle
Like all modern sewing machines on the market today, the Singer 7258 & Brother CS7000X feature a twin needle function that creates parallel and decorative stitches throughout the fabric.
Not only does it provide a clean, professional finish, it also gives your clothes a store-bought look that will stay intact for years.
Free Arm
Both the Singer 7258 and Brother CS7000X have a free arm located on the bottom of the sewing machine. It helps you easily sew multiple items such as pants, cuffs, sleeves, and other tube-shaped garments.
You can access the free arm by removing the accessory tray from any one of the machines as it covers the lower body.
Warranty
Every sewing machine comes with an incredible twenty-five-year warranty that is covered by both brands. You can replace and repair the machine free of charge if defects in materials or workmanship are found after delivery.
Also, you must register online for a warranty in order to take advantage of all future benefits.
Singer 7258 vs Brother CS7000X – What's so different?
Stitch Length & Width
Both machines have manual stitch length and width controls for sewing custom fabrics to satisfy every customer.
However, each has its own different preset stitch length and settings that you can change later depending on the work you have planned for the sewing machine.
Total Stitches
To help you achieve a decorative finish with overlapping threads on any fabric, Singer 7258 & Brother CS7000X sewing machines offer several stitch designs.
However, Singer gives you more options as there are thirty more stitch designs to do all kinds of jobs with a simple click makes the device perfect for professionals.
Button-Hole Styles
One-step buttonhole makers are attached to both Singer and Brother sewing machines to help people create beautiful and distinct buttonhole designs.
The only difference is the total number of styles, which the Brother CS7000X sewing machine wins with the additional style to offer.
Accessories
Another difference between the two sealing machines is in all the accessories. The Singer 7258 comes with a total of 16 accessories while Brother offers 21 overall.
Brother also gives people more pressure feet and extension tables while the other units don't.
Singer 7258 vs Brother CS7000X – Pros & Cons
Singer 7258

Brother CS7000X

Pros
● Twin needle function
● Top-notch design
● LCD display
● Sewing light
● One-step buttonhole
Pros
● Fast SPM speed
● Beginner friendly
● Metallic cover
● Long warranty
● Adjustable stitch length & width
Cons
● Less buttonhole styles
● Few accessories
Cons
● Less stitch design options
View on Amazon
sewingmachinesplus.com
 View on Amazon
Singer 7258 vs Brother CS7000X – Which one's the best?
After comparing the Singer 7258 to the Brother CS7000X, we have a clear winner. The Brother CS7000X not only comes with more accessories such as an extension table, protective case, and more foot pedal options but also offers customers a great warranty.
Also, the one-step buttonhole maker works like a charm to help you create seven different types of buttonhole styles in one simple move.
General FAQs
Q. Can you do embroidery?
Yes, you can do free motion embroidery.
Q. Do they work for quilting?
They are perfect for quilting.
Q. Can I sew leather?
Yes, you can sew leather and heavy fabrics.
Q. How many speed options?
Overall, three-speed options.
Verdict
Both the Singer 7258 and Brother CS7000X are affordable, portable, and convenient sewing machines on the market. They are perfect for sewing and quilting, but you can also do embroidery with a few modifications.
The Brother CS7000X should be most people's preferred choice as it has better options than the Singer 7258 unless you want more stitch design options.
Few Related Sewing Machines
Also, read